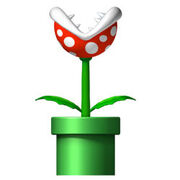 Piranha Plants are large, carnivorous plants encountered throughout the Mario series; Piranha Plants are seemingly based-off Venus Flytrap, eating anything that approaches them.
The head of a Piranha Plant is most commonly either red or green with multiple other colors. Originally, Piranha Plants were found exclusively in pipes, either darting-out and biting anything near or remaining still and spitting fireballs. Currently, Piranha Plants can be found both in and out of pipes and their fire-breathing ability is now rarely used.
Ad blocker interference detected!
Wikia is a free-to-use site that makes money from advertising. We have a modified experience for viewers using ad blockers

Wikia is not accessible if you've made further modifications. Remove the custom ad blocker rule(s) and the page will load as expected.